Document translation management service "LifeLang" released
2020-05-12
News
---
Document translation management service "LifeLang" has been released.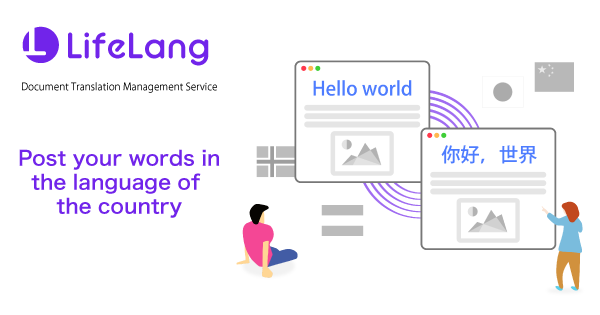 LifeLang is a web service that has specialized functions for multilingual translation in addition to basic document management such as text creation, editing, saving, and history display.
Do you think that English is sufficient for sending information overseas? Of course, English may be said to be a world standard language. But do you often read English articles and blogs? Most of the text you read is in your native language.
The same is true for people outside your country. If you are writing in your native language, you will read without hesitation. If you really want to send out information that reaches the world, it is best to send it out in the language of that country.
LifeLang is the perfect service for fast and accurate multilingual translation. Let's spread your words in the world.
【Features】
Adopted Google Cloud Translation as translation engine
Google's Cloud Translation API, which continues to evolve every day, is adopted as the translation engine. You can directly benefit from the improved translation accuracy provided by Google's machine learning. Currently, it supports 109 languages around the world.
Improving translation accuracy by reverse translation
Reverse translation is the retranslation of translated text into its original language. By comparing the original sentence and the re-translated sentence, you can check the clear mistranslation. Therefore, you can rest assured that you can post to highly public media.
Improving translation efficiency with glossary
You can unify the translation of specific words by creating a translation glossary (vocabulary). It is especially effective for writing sentences in fields with many technical terms, and can improve the efficiency of translation work compared to manual correction.
Posting to social media
You can post a document to SNS or CMS in a few simple steps (Currently, Twtter is the only SNS you can post directly). In addition to plain text copy, it also has an HTML copy function, so you can copy and paste the text created for posting as it is.
LifeLang offers four plans: Free, Standard, Professional and Enterprise. First of all, please try the free plan.